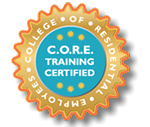 Most residential cleaning services say very little about the cleaning tech's training. Just saying they are trained doesn't prove that actually know how to clean your St. Louis MO home in a professional, efficient, thorough and organized way.
Our house cleaning technicians are selected based on their character (background checked), positive and friendly attitude, and communication skills.
All our house cleaning technicians are Certified by C.O.R.E. — the training college for the residential cleaning industry. They practice cleaning the right way in our own home before we ever send them to clean your home!
Another thing you should know is that we pay our cleaning technicians on an hourly basis so they are motivated to do a much more thorough job of cleaning your home. Most house cleaning companies pay their house cleaners on a percentage basis which encourages the cleaners to value speed over thoroughness.
 What Our Clients are saying…
Heavenly Scent Cleaning Services | St. Louis, Mo. 63117 | Phone: (314) 341-8334 | Email: heavenlyscentstlouis@gmail.com